Cumberland Valley High School
Class Of 1979
In Memory
Thomas Gillis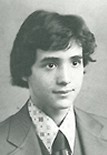 Thomas Andrew Gillis
May 31, 1961 - December 13, 2015
Thomas Andrew Gillis passed away on Sunday, December 13, 2015, at
the age of 54 years. He was born on May 31, 1961, in New Bedford,
Massachusetts, to Hugh Colin Gillis and Esther Frances Harrington Gillis.
Thomas proudly served our country in the U.S. Army in the 101st
Airborne from 1980-1984. Thomas has been a Katy resident since 1984,
and has worked for the United States Postal Service since 1985. He
attended Epiphany of the Lord Catholic Church, and was a WWII history
buff. Thomas was an avid sports fan, especially the Patriots and Red Sox.
He is survived by his daughter, Jarin Gillis Jones and her husband Cody
of The Woodlands, Texas; grandchildren, Nadia Jones and Orion Jones;
parents, Hugh and Esther Gillis of Katy, Texas; siblings, Catherine Gillis
of Merion, Pennsylvania, Colin Gillis and wife Denise of Middletown,
New York, Rosemary Buetikofer and her husband Cliff of Harleysville,
Pennsylvania, and Esther Finley and her husband Sean of Fulshear,
Texas; as well as numerous nephews, nieces, and other relatives and
friends.
A memorial mass will be celebrated at 10:30 a.m. on Monday, December
21, 2015, at Epiphany of the Lord Catholic Church, in Katy, with Rev.
Thomas Joseph, Celebrant.
Those wishing to make memorial gifts may do so to the Wounded
Warriors Project, 2200 Space Park Drive, Suite 100, Houston, Texas
77058; or to the American Diabetes Association, 2400 Augusta Suite
#175, Houston, Texas 77057.
Born: May 31, 1961
Death: December 13, 2015