Cumberland Valley High School
Class Of 1979
In Memory
Tom Logan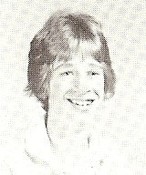 Tom was my beloved brother. Somehow I stumbled upon this website, saw this old picture of him, and could not bear to have the "memorial" section blank!
Tom died in June of 1985 from a car accident. He is missed dearly by my parents and myself as well as many many relatives. My son was 3 months old at the time. It is hard to believe that time has passed so quickly, yet in 1985, it seemed like time stopped.
Tom was quite fortunate to have many friends from the class of 1979; all so unique, yet all enjoyed and treasured by him for their eclectic personalities. Rick Hawley was his best friend. He also was great friends with Joe Petro, Joe Morton, and Dan Horn. Surely all have grown to have families and careers. We are still in touch with Rick!
One of Tom's favorite things was his Honda. Music was a passion as well. His tastes were certainly reflective of the late 70's early 80's...The Cars, Bruce Springsteen, Kansas, The Beatles, etc. We still have those albums, tho a little dusty! :) There is a great deal more I could write about, but I wanted to be sure that Tom was remembered.
Thank you, Jeff, for contacting me so quickly, and signing me up on the website. Best wishes to all of the class of 1979!
Cindy (Logan) Ziegler